Rockford Steel Buildings
Rockford™ manufactures steel building systems with pride, and commitment to traditional American Quality. They have kept true to their commitment by designing and purchasing the most advanced technology in machinery and computer aided manufacturing equipment.
Rockford's State of the Art Factory in Walterboro, South Carolina is one of the most modern and innovative of its kind. Their investment in computerized engineering and manufacturing enables them to produce as many as 20 buildings per day. The products manufactured by Rockford Steel Building Systems are all available from Andree Builders, Inc.
We are confident of providing you with the finest pre-engineered steel building product available in the market today
Rockford's™ Custom Buildings are available with a full complement of standard and optional components and features. Let us help you choose from Rockford specifications to design most any building from the most economical utility building to a commercial showplace, or industrial complex of unlimited size.
Most Common Roof Pitches




Roof Slopes: Optional custom buildings (1/4:12:12 in any increments are available upon request)
Bay Sizes: Custom buildings available from 10' thru 30' in any increment with standard purlins, and in any combination, are also available on request
Design Loads: Custom building wind load - 30mph up to 100mph auxiliary load-cranes, mezzanine or other concentrated loads
Roof Panels: Custom building alternative: standard seam roof system. Various other gauges available upon request.
Complete Line of Accessories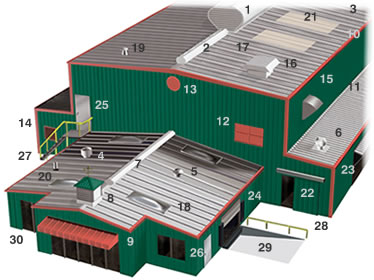 1) Indust
2) Continuous Ridge Vents
3) Weatherbeater Vents
4) Round Vents
5) Horizon Vents
6) Turbine Vents
7) Low-Pro Vents
8) Cupolas, Wind vanes
9) Canopiesrial Gravity Ventilators
10) Flashing & Trim

11) Die Formed Flashing
12) Louvers (standard)
13) Louvers (custom)
14) Automatic Shutters & Fans
15) Weather hoods and Fans
16) Roof Curbs
17) Summit Hoods
18) OSHA Approved Skylights
19) Roof Jacks
20) Pipe Flashing

21) Translucent Panels
22) Industrial Sliding Doors
23) Bi-Fold Doors
24) Overhead Doors
25) Walk doors
26) Windows
27) Stairs
28) Railing
29) Dock Bumpers
30) Standard Duty Skylights

Download the Andree Builders/Rockford Steel Building System brochure - Click Here

Visit Rockford Steel Building's website.

Contact Us today to learn more about Rockford Steel Buildings!